Information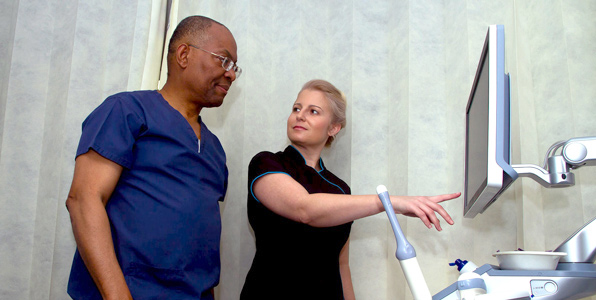 In this section you will find answers to some of the frequently asked questions. Simply click on a question to reveal the answer and click again to hide it.
Abnormal smear and colposcopy
When should I have my first cervical screen test?
Most countries offer the first cervical screen test as soon as you become sexually active. In the UK/NHS it is offered at the age of 25. The reason for this is that it is rare to develop cancer before the age of 25. Any changes in the cells and small abnormalities that are seen in women under 25 are usually normal and will tend to resolve themselves naturally. Over the age of 25, changes in the cervical cells are considered more serious. At The Gynae Centre we follow the same policy, but we are happy to do the test for anyone under the age of 25 who requests it.
How often should a cervical screen be done?
Most countries offer screens every 2-3 years. We recommend that you do it every 2 years.
Why do abnormal smear cells develop?
Most, but not all of cervical cancer cells occur due to infection with Human Papilloma Virus (HPV). The HPV virus is sexually transmitted and is very common among teenagers and women in their early twenties. Most women will be clear of the virus within one year, but some do not manage to clear the virus, due to a poor immune system. These women are most at risk of developing abnormal cervical cells.
Are there any vaccines against Human Papilloma Virus (HPV)?
In the past two years two vaccines against HPV have been developed - Gardasil and Cervarix. These vaccines help to protect against "some" of the types of HPV. There are 90 types of HPV but only 12 are high risk for anogenital cancer. Gardasil gives 93% protection against HPV 6/11/16 and 18 responsible for genital warts and cervical cancer and Cervarix gives 99 % protection against HPV 16/18 responsible for cervical cancer. You will need to take 3 injections at 0, 1-2 and 6 months. We cannot stress how important it is to consider these vaccines seriously before becoming sexually active or if you are sexually active.
Cervical Intraepithelial Neoplasia (CIN), also known as cervical dysplasia, is the potentially premalignant transformation and abnormal growth (dysplasia) of squamous cells on the surface of the cervix. CIN is graded according to the size of the abnormality in the nucleous. CIN 1 may be kept under observation for up to 2 years since it may simply be due to infection with HPV virus. CIN 2 and CIN 3 are strongly precancerous and should be removed by Loop high frequency diathermy.
Vaginal pain and discharge
Vulvodynia is term given to a pain in the vulval area, mostly around the entrance of the vagina. It is often described as a constant burning sensation and is associated with pain during intercourse or upon touch. The cause is unknown and the treatment is difficult.
Vaginismus, sometimes anglicized "vaginism" is the German name for a condition which affects a woman's ability to engage in any form of vaginal penetration, including sexual intercourse, insertion of tampons, and the penetration involved in gynecological examinations. This is the result of a conditioned reflex of the pubococcygeus muscle, which is sometimes referred to as the "PC muscle". The reflex causes the muscles in the vagina to tense suddenly, which makes any kind of vaginal penetration, including sexual intercourse, painful or impossible. This is often distressing and the results of treatment are variable. Recently we have used Botox injection in order to relax these muscles. Success rate 70—80%.
Fertility problems
Why is it difficult to achieve pregnancy after 35 years?
After 35 years of age, the chromosomes division and separation to form a Haploid germ cells (half) is imperfect. This causes a number of cells containing one less or one more chromosomes resulting in an abnormal off spring e.g. Down's syndrome. If one germ cell fails to divide altogether, the whole chromosomes (46) try to complement by combining with half from the male partner's chromosomes (23) resulting in 69 chromosomes (Triploidy) which often ends up in miscarriages.
Sexual Health
Chlamydia infection is the most common sexually transmitted disease in developed countries affecting about 1:10 adults at 20 years of age in the big cities. It is caused by a small bacterium. It behaves like a virus as it can live and replicate inside the cells. In women early infection are often silent and may remain for months or years. It may be manifested by vaginal discharge, postcoital, intermenstrual bleeding or pelvic pain. It is a major cause of tubal blockade and infertility.
Gonorrhea is the second most common Sexually Transmitted Infection (STI) after Chlamydia and affects 5% of young adults. It is caused by a bacteria and is highly infectious with symptoms appearing 2-5 days after contact. In half of the women there are no symptoms but in the remainder there is a yellow copious discharge and pain with urination. It can spread to the uterus and tubes leading to pelvic pain and infertility.